We've teamed up with talented travel writer Robin McKelvie to bring you a series of blogs sharing our mutual love of the Scottish Islands. Read on to find out why we wanted to work together and what you can expect from this brilliant series!
---
There is something deeply special about islands. I've always been drawn to the endless possibilities, big skies and rich communities they offer in such glorious abundance. And hand on tartan heart – as a travel writer who has visited over 1,000 islands across over 100 countries – my favourite isles are right here in Scotland. Our myriad islands offer endless opportunities and diversity for visitors looking to explore these unique communities, with Scottish Islands Passport an ideal new way to weave deeper into them.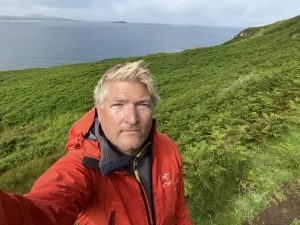 Their fresh approach – which I will delve further into in a moment – is clearly working. When I first spoke to them at the end of August 2022, they reported they'd had 50,000 user sessions on their website since the start of the month and a whopping 8,000+ downloads of their App – an impressive stat which has risen to over 12,000 since then. They now cover 72 islands spread across Scotland's epic coastline – remember we've over 800 islands and over 10% of Europe's coastline. And all are jaw-droppingly spectacular.
Scotland's isles could scarcely be more dramatic. And varied. We have big hitters like Skye and Mull, awash with soaring Munro mountains and surging glens. Then also low-lying island like Lismore, which offers epic views of the higher ground all around. Fellow low-lying charmer Coll is fringed by the sort of beaches that you normally only see enhanced in glossy brochures. Scotland's islands offer spirit-soaring landscapes, but for me it's the people and their cultures that really make them so unique.
Scottish Islands Passport helps you dive in. Their App is really easy to use. You can use it to choose an island/islands to visit and then learn more about it before you travel, or use their innovative 'island finder' to be inspired. When you're there it's an invaluable travelling companion, like being gently guided by a combination of a good old friend who knows you and a clued up local. You also get to collect digital stamps for all the islands that you visit, as well as collect your physical 'stamps' from the network of rubbing plates that are currently being installed on the islands, so you can build your own 'island passport'.
When I came across Scottish Islands Passport it was a breath of fresh air. They chime with how I feel about Scotland's islands. They don't buy into the fetishization, or Disneyfication, the idea that they are just 'wild', 'remote' places where somehow the people are a more part of the background than real. These are the Scottish islands I often find in well meaning articles and on TV shows. They may capture the beauty of the islands, but not the real communities behind them, the local businesses and creatives who chose to live, work and often thrive here.
Like Scottish Islands Passport I don't want to fetishize our islands, or just stick to the obvious. In my series of blogs for them I'll be digging into some of best known islands to find wee hidden corners and the less obvious spots, so be ready for more on Arran and Mull soon. Let's not forget either the 'lesser-known' likes of Papa Westray and Unst. Jura and Wyre. I've been to almost 100 Scottish islands and have never found one I don't like yet.
Scottish islands may not be created equally in terms of size, but they all deserve equal attention. And when you see what they offer you'll be desperate to give them that attention. Indeed tourism dispersal is something close to my heart. And I don't just mean finding lesser known islands like Fetlar, Ulva and Muck. On the wonderful Isle of Skye by all means tick off the Fairy Pools at a quiet time of year, but why not seek out even more rewarding corners of Skye as well? Or even seek out a quieter alternative island instead.
Chatting to Scottish Islands Passport about the aims of their project they expanded on that dispersal: they want to push those lesser known islands and disperse tourism, both physically between islands, but also widen seasonality. They call it encouraging 'more people to more islands throughout more of the year', which I like. It's not saying don't come. Quite the opposite – please do come, you're very welcome, but why not come in autumn or winter, why not visit some different islands? This can help ease the pressure on some of the more stretched island communities and bring economic benefits to others who may have missed out.
I've seen many tourism projects in Scotland come and go. I really think this one has legs, though: genuine sustainability and that is partly by putting literal environmental sustainability at its heart. They are encouraging public transport use and also active travel, propelling yourself on two feet and two wheels. Their mantra chimes again with mine – 'leave no trace'.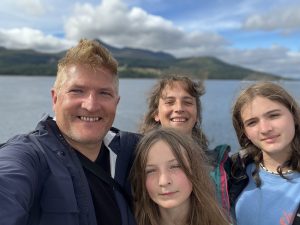 Protecting the environment and protecting local communities for me are two sides of the same coin and they recognise that. Looking through the places they feature there are island businesses and other local groups/organisations, who are being helped with increased spend and even donations, with local island charities benefiting.
I like too where the App content comes from. It's not being trawled out from a search engine in a remote city. Rather the voices of islanders and island communities are at the heart of how the islands are represented. All their content is gathered from local sources and they conduct regular 'sense checks' with other islanders and island organisations to make sure it is spot on. To better articulate this approach, the team created their 'island centred ethos', a statement of intent on how they consider island communities not only in terms of what is being creating, but in how it's created too. The concept for the project was created by islanders and is now delivered by a small job-share duo on the Isle of Jura. Over the course of the project the team have sought out suppliers and freelancers from a number of islands too, adding their island voices to the evolving initiative.
They are a hard working bunch at Scottish Islands Passport. Already in the pipeline – as well as keeping the site and App fresh – there are upcoming travelogues. Each will have a different theme, with the first one Meet the Maker, which delves into the rich seam of creative people who call the Scottish islands home. I've had a sneak preview of some of the entries and it's a corker. So if I was you, I'd stop reading this and download the App, then you can start planning your island adventures. I'll be back soon with more blogs on the isles themselves and to tell you about those great travelogues…
---