Our travelogues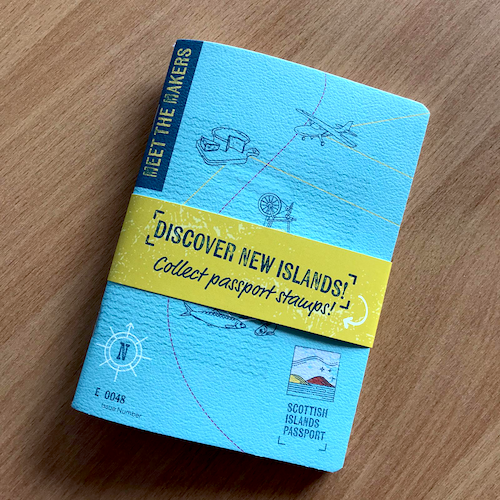 Our travelogues are pocket guides which help visitors explore Scotland's islands using themes which focus on specific interests. As well as providing inspiration for islands to visit, travellers can collect passport stamps for the islands they visit using a network of rubbing plates we have installed with the help of island communities and add their own notes to create a keepsake of their island journeys.
Not every island is covered in every travelogue. Instead we pick islands to highlight for each specific theme, with the intention that all islands will be covered in at least one of the travelogues in the series. We have deliberately chosen to include lesser known islands and less-obvious choices within each theme to encourage folk to explore more of the amazing variety of Scotland's islands.
In 2021 we developed a pilot travelogue called 'Eat, Drink, Explore'. We used the feedback from this to create our first full travelogue called 'Meet the Makers'.
Meet the Makers travelogue
'Meet the Makers' focuses on island artists and makers and includes a double page feature on the following islands, with space to collect island stamps: – Arran, Barra, Benbecula, East Burra, Eigg, Fair Isle, Fetlar, Great Bernera, Harris, Islay, Jura, Lismore, Mainland Orkney, Mull, North Uist, Rum, Sanday (Orkney), South Ronaldsay, Stronsay and Yell.
The 'Meet the Makers' travelogue also features North Ronaldsay, South Uist, Cumbrae, Muck, Burray, Iona, Tiree and Colonsay in the 'More to explore' section and encourages readers to use the Scottish Islands Passport app to discover more islands. The travelogues are protected by a 'belly band' to keep them in good condition for purchase.
See our Travelogue Information Pack for more information and a sneak peek of the travelogue.
Shaping Our Islands travelogue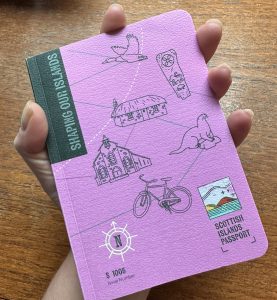 The second in our series of travelogues is 'Shaping Our Islands' which explores our islands' built heritage and history that shaped them and the communities that continue to thrive. Each of the following islands have a 2-page spread with a space to collect that island stamp: Bressay, Canna & Sanday, Coll, Eriskay, Gigha, Grimsay & Flodaigh, Hoy & Walls, Iona, Lewis, Muck, North Ronaldsay, Papa Stour, Papa Westray, Rousay, Seil, Shapinsay, South Uist, Ulva, Unst and Whalsay.
'More to explore' in our second travelogue adds Arran, Bute, Harris, Islay, Mainland Orkney, Mainland Shetland, Rum, Skye and Westray.
Becoming a retailer
We are looking to work with retailers with physical spaces on Scotland's islands, in ports and other travel hubs, and elsewhere throughout the UK who might be interested in stocking our travelogues. We are not looking for online retailers.
The RRP for the travelogues is £9.95. It is exempt from VAT for wholesale or retail sales under the books and printed matter guidance from the UK Government.
The wholesale price for travelogues starts at £5.00 per item. The cost per item reduces according to the number of items ordered, as per the information below. Prices apply to all items of the same type ordered – for example, if you order 20 Meet the Maker travelogues you will be charged £4.80 per item for all 20. All prices are correct as at 24th October 2023. There is a minimum order of 10 travelogues of the same theme, to be sent to the same address.
If you would like to register your interest in becoming a retailer please download and complete our Retailer Expression of Interest form.
Wholesale prices
10 travelogues on same theme (minimum order) – £5.00 per item
11-35 travelogues on same theme – £4.80 per item
36-99 travelogues on same theme – £4.60 per item
100+ travelogues on same theme – £4.40 per item
All orders to be sent to a single address at a flat rate of £5 per order. Alternatively collection can be arranged from our office on the Isle of Jura. Payment must be received on all orders before they are shipped. All payments to be made by bank transfer.
What comes with your order
We can provide point of sales information for your retail space in a variety of sizes to promote the travelogues.
Retailers will be provided with one sample copy to allow customers to browse the contents before buying. If you are ordering for multiple retail outlets please speak to one of the team to discuss how many sample copies you will need.
Next steps
If you would like to register your interest in becoming a retailer please download and complete our Retailer Expression of Interest form. Got a question? Feel free to drop us a line using our contact form.