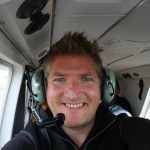 By Robin McKelvie
Within my first half hour on the island I've already had real conversations with more people than I do in a whole day when I'm in London. And I've snared an invite to the annual Johnsmas midsummerparty, where the local community come out in glorious force. Welcome to Papa Westray (simply Papay to the islanders), a 'remote' Scottish island that could scarcely feel less remote.
Papa Westray sparkles 20 miles north of the Orcadian capital of Kirkwall. It's a real-life treasure island, only four miles long and one mile wide. Papa Westray is painted in spectacular broad brushstrokes, fringed by starched white beaches that look more Caribbean than European. Its rugged coast rises to modest cliffs; its smooth hills more than manageable for the people lucky enough to live here.
Getting to Papa Westray is all part of the experience. You can bash north on the ferry, but I've arrived on the world's shortest scheduled flight from the neighbouring island of Westray. "We're going to use the cross-runway today," the pilot smiles as we approach. We skim in over a stone wall, plunging on to the grass, then braking across the runway to stop on the turf just before the wall on the other side.
My first port of the call is the island's community-owned and run hostel and shop. I'm staying in a wee wooden wigwam that peers out towards the water. Warden Jennifer couldn't be more welcoming. I'd foolishly felt the need to bring supplies from Kirkwall and just nip in to see if the community co-operative shop has any bread. I quickly pick up a lovely seed-crusted loaf of bread. But then I ditch my plans to eat my processed supermarket meat, and switch to sandwiches laced with locally smoked salmon from just across the water on Westray.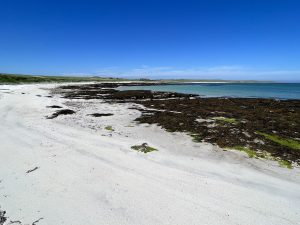 My conversation lilts along with Jennifer in a way you just don't normally get in a shop on the Scottish mainland; then her friendliness ups a level: "We've a real sense of community on Papay," she tells me. "Visitors are very welcome on our wee island. In fact we're celebrating Johnsmas tonight so why don't you come and celebrate it with us?".
My party invite secured, I push out to discover not just an island, but a real community I've already been welcomed into. Far from the 'wild' or 'remote' isles you see gushed about on glossy BBC documentaries, there is a real drive and community spirit. I wander along by the wee school and post office. Its customers and the schoolchildren are lucky that just a short stroll away are a brace of utterly spectacular white sand beaches at South Wick and North Wick.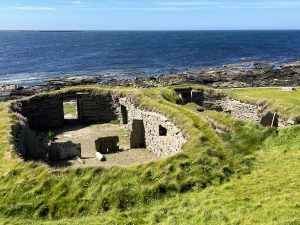 The island also has a wonder that manages to top those beaches. I sometimes write that Orkney mainland's Neolithic treasures make Stonehenge look like IKEA. As some, of course, are older. By that logic Papa Westray makes the likes of Skara Brae and Maeshowe on Orkney's mainland look like IKEA as it has a site that is half a millennia older. The island is home to the incomparable Knap of Howar.
The Knap of Howar is a site with two interconnected houses, the oldest dwellings in north-western Europe. Carbon dating in the 1990s backed up the theory that they may be up to half a millennia older than the Orkney mainland's finest at around 6,000-years-old. They sit right down on the rocky coast, through a field alive with cows. Sighting the Knap of Howar I let out an involuntary 'Wow!". The Knap of Howar is a genuinely awe-inspiring place that ties the island's community right back to their ancestors.
The Knap of Howar even has a neighbour. St Boniface Kirk is one of the oldest churches in Northern Scotland still in use, dating back far as the 12th century. It had fallen into disrepair, but the community pulled together, resurrecting techniques with traditional construction methods to brilliantly restore this fine church. Its graveyard houses a 12th-century Viking hogback gravestone too.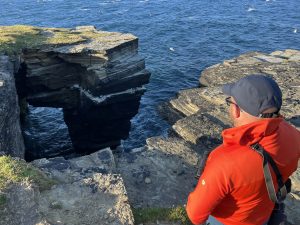 Nearby is a less obvious treasure. I stumble upon a dilapidated cousin of the Knap Of Howar. It's little more than the skeleton of dwellings built right on the shore that have lost their battle with the sea. It's just me here, bar the gulls, the roaring surf and the tantalising ghosts of our ancestors.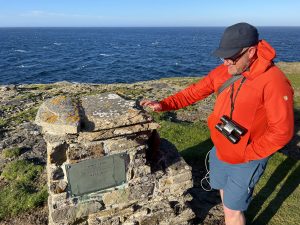 I feel a real passion for Papay from everyone I meet, none more so than Jonathan, who offers tours and beguiling social media coverage of the island as the Papay Ranger. He meets new arrivals at the bijou airport and sweeps them off for a greatest hits tour of an island that packs an impressive amount of hits. "There is so much to see on our glorious island," Jonathan beams. "I often find that people plan to come for a day, but then very quickly decide that was a mistake, that they should have stayed longer. Papa Westray is a place – like many Scottish islands – that really rewards the effort and time you put into it."
Jonathan shares the RSPB North Hill Reserve with me, a reserve that protects around a third of Papa Westray. We wander under big skies looking out for passing marine mammals, as seabirds fill the skies and cliffs. I spot cute waddling puffins, soaring fulmars and darting Arctic skuas. I don't spot any of the great auks that used to thrive here. The last one was killed for a collector on Papay Westray on the isle in 1813. A modest memorial marks the passing of the species. Jonathan has plans for a more fitting testament.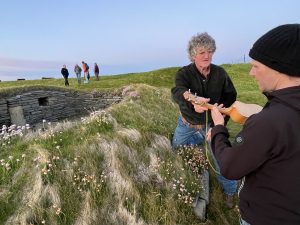 We talk too of Scottish Islands Passport. The community here is enthusiastic about an initiative that pushes beyond the obvious and engages people with the isles. I'm impressed when I check out the Papa Westray entry on the app as I learn about the 'small things' that make Papa Westray so special. I learn that the island is the best place in to see Primula Scotica (Scottish Primrose), a miniature wonder that bursts alive across the North Hill Reserve in spring and summer.
Given the overwhelmingly warm welcome I receive all over Papa Westray I feel it's rude to turn down my invite to the big party night. I join the community cosying around the bonfire. We share the drinks we've all brought and tuck into delicious homebaked scones. Then we wander down with guitars and good cheer in the glorious late Orkney summer light to the Knap of Howar. As the midsummer sun burns, but refuses to set, we serenade the seabirds and the human ancestors by the roar of the sea on an island that may be wildly beautiful, but that never feels too wild and that is definitely not remote.
---