By Robin McKelvie
Arriving on Eigg is always an utter joy. And today is the first time I've arrived to find the Scottish Islands Passport station and stamp right at the heart of things – a double joy! I love Scottish islands and have long wished for an app that solely focuses on our islands and how to get the most out of them beyond all the tourist clichés, in a way that gets you closer to the rich communities on those islands.

"Yes, I've noticed people increasingly using the Scottish Islands Passport app," smiles Owain Wyn-Jones, of Eigg Adventures. "It's great to see time, effort and investment going into a website and an app that shows the islands in a more authentic way and that tries to get people to interact with and learn more about island communities like ours."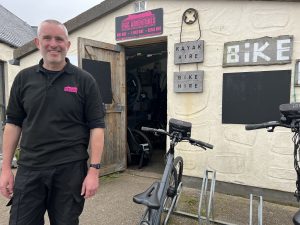 There is a tangible, strong sense of community on Eigg and this is very evident in Galmisdale by the ferry pier. The new An Laimhrig community hub – a friend of mine, Will Tunnell of WT Architecture, is the island-specialist architect behind it – is a real credit to Eigg, and a testament to the drive of this self-governing community-owned island. Eigg shows what can flourish when real power is put back into communities rather than letting it lie with more traditional distant or uncooperative landlords and owners.
There should be an An Laimhrig on every Scottish island. The building itself is beautiful, using Scottish wood and materials to make it shine and make the most of the local light and ever-changing weather. The café has huge windows where you can tuck into Arisaig mussels peering over the water towards Arisaig, or sup Isle of Eigg Brewery beers on tap with a truly epic view. The gift shop is gorgeous too, as is the grocery store alive with local meat and vegetables, plus venison from just across the water on Knoydart.
One of the things I really love about using the Scottish Islands Passport app is that it offers those nuggets of local knowledge that you just don't find in guidebooks and I say that as someone who has written guidebooks on Scotland. Opening up the app in the island capital of Galmisdale I learn instantly in the 'Ask an Islander' section about the Eigg Forestry Project, who are working to not only produce wood fuel for the island, but also to replant over 10,000 trees over the next few years.
The app makes me think too about simple things like sunsets. Normally I catch sunset in Glasmisdale with the pink and red tinges spreading all around towards the mainland. But the app suggests hopping over to Laig Bay for sunset on the west of the island. I check this with Owain and he says the sunsets there are spectacular, served with an epic view of the Rum Cuillin.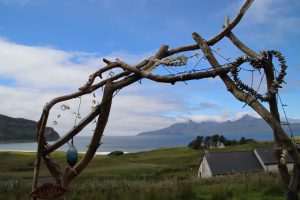 Scottish Islands Passport also tells me about just how special this offshore off-grid island is. The island has its own electricity system, which came online in 2008, bringing together three green energy sources – hydro, wind power and a photovoltaic array. As a Scot I'm proud that was a world first for an island, something I pointed out to the mayor of the Spanish island of El Hierro when he boasted many years later that his island was the first to do this!
These insider tips helped me frame my time back on Eigg, so I wasn't just wandering around like many of the new arrivals wondering what to do and where to go. The 'Experiences' section of the app took things a step further, giving me actionable information on specifics. For example there was information on local churches, woodland walks and felt workshops.
I learned too about Selkie Explorers, who offer boat trips in their 16m yacht. These tours really open up the grandeur of the scenery and bountiful wildlife of one of Scotland's most special islands. I asked locally about this recommendation and everyone agreed it was a spot on option, again a tip that came through Scottish Islands Passport.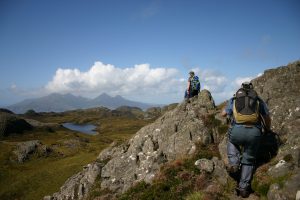 When I visit Eigg I always try to catch up Lucy Conway, an Eigg resident who is deeply passionate about her island and always knows all the comings and goings on the island. She is also on the board of SCOTO, the pioneering new initiative to link communities with other communities, private businesses and also help forge relationships with visitors so they become more 'temporary locals' rather than just tourists parachuting in and out of communities without really contributing in any way, financial, or otherwise.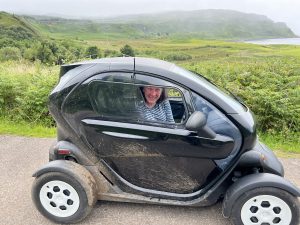 "It's really key for the communities on the Scottish islands to be treated with respect by people visiting them, not just seeing our island as some cutesy holiday escape. And it's circular so when people approach communities with respect and spend their money in them they get an insight into the lives of the local people and the wider community, which really enriches their holidays and benefits everyone," she told me.
Conway is also positive about Scottish Islands Passport: "On Eigg we welcome initiatives that are keen to encourage people to visit and to show different sides of our island than those they might not otherwise even consider or notice on a quick dash in and out of Eigg. Anything that helps move towards the idea of people coming in being 'temporary locals' is great."
I'm always reluctant to sail away from Eigg and this time was no different. I felt positivity, though, after hearing of yet more initiatives, such as doubling the generation of green electricity on Eigg, so that they meet an ambitious target of reaching net zero commitments by 2030. If any island can achieve that it is Eigg. I left too cheered by seeing both Scottish Islands Passport in action in a community and that community also embracing it. I'll be back on the app after I finish writing this checking out future islands to plan travels to. I suggest you do the same.
---