By Robin McKelvie
I cannot think of many islands in the world where one family dynasty has as tightly controlled a whole island for so long. That statement is not a judgement, just the reality on the Isle of Bute. This Firth of Clyde island is more complex, more nuanced than any kneejerk reaction allows too. Bute is for me one of the most rewarding and fascinating isles to visit in all of Scotland.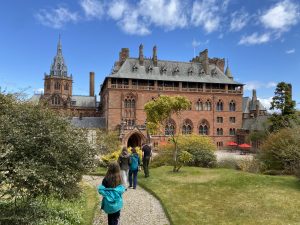 Back to that family dynasty: the Stuarts of Bute. The modern day incumbents are descended from Sir John Stewart, son of Robert II of Scotland, born in the fourteenth century and known as 'The Black Stuart'. The family's claim on land in the Clyde was recognised by Royal Charter in 1400. Their wealth skyrocketed through their redevelopment of the Cardiff docklands, when it became the world's largest coal port in the nineteenth century. The 7th Marquess, known as Johnny Bute, or Johnny Dumfries, is also a famous racing driver who won Le Mans in 1988.
Johnny Dumfries died in 2021 after making his mark on the island. It was the 3rd Marquess, John Patrick Crichton-Stuart, though who made the most remarkable mark, the utterly unique Mount Stuart, in the nineteenth century. Scotland's grandest country house looks like a Gothic time machine that has descended on eastern Bute. Everything about Mount Stuart screams excess – it was the first building in Scotland to be fully lit by electricity; the first house in the world to boast a heated swimming pool. Its marble-kissed chapel was lit up by the wedding of Stella McCartney. Visiting is a must, as is exploring grounds alive with all sorts of flora and fauna.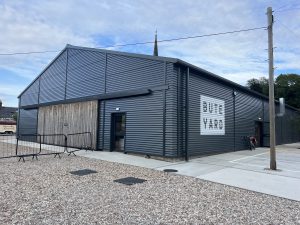 Bute is alive with other historical legacies – the archetypal Scottish castle, complete with a moat, presides over Rothesay, while the ecclesiastical wonder of St Blane's Church is hidden away in the south. A guide once told me he believes there are much older ruins at the latter, not yet revealed, of such stature that they could elevate Bute to being as important as Iona for its religious history.
But despite the rich history – and despite one family dynasty owning most of the island and divvying much of it up into farmland – Bute is not an isle stuck in the past. The island of Doon the Watter cliches has moved on. And moved on in some style. I arrive on my latest visit in Autumn 2023 to find Bute Yard just opened, a massive project that Johnny Bute was deeply passionate about, but one I feared might not survive his passing.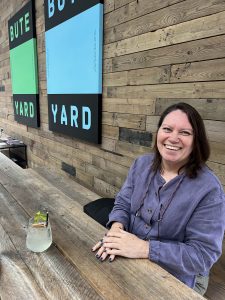 Johnny Bute felt that Bute Yard would bring businesses and the community together, while providing a valuable, usable resource for locals and alike. It has achieved all that and more in just a few months after opening in June 2023. This spacious indoor and outdoor multi-use venue now serves Bute all year round – a multi-use venue for everything from foodie nights and parties, through to concerts and weddings.
The anchor businesses are the excellent Isle of Bute Distillery and the Bute Brewing Co. Over one of the latter's thirst-quenching banana beers, I meet Kay Robertson, general manager of Bute Yard. She could scarcely be prouder of her charge: "We only opened this summer and already Isle of Bute Distillery have moved in alongside the brewery. Then this week they have been joined outside by the Coffee and Chocolate horse box guys and the container that offers smoked fish and smoked cheese treats."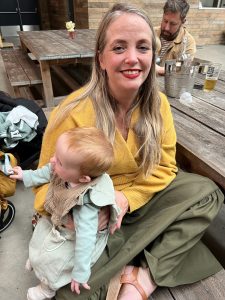 I am impressed how many people are milling around on a weekday during the day. Robertson, though, insists instead I should have come on the first Sunday of the month: "We stage a massive market. We've had 2,000 visitors on a single day, which is incredible given Bute's population is only around 7,000." Robertson also reports that the vast majority of businesses offering their wares are based on Bute, neatly working into the circular economy that all isles really need to thrive.
I follow up that delicious beer with a Black Forest Hot Chocolate from Coffee and Chocolate. And bump into Erin Murphy, the epicurean entrepreneur driving force behind Rothesay foodie bolthole, The Gather Deli. She tells me of her superb cured meats, olives, dressings and delicious glazes, plus their takeaway boxes. Erin too is passionate about Bute and tells me, bouncing her baby on her lap: "It's great to share so much great produce with people. Just today we were making a marrow chutney with fresh Bute vegetables. It's great to see so much going on and everyone coming together. For example two local restaurants, Kettledrum and Ambience, collaborated for Bute Yard. And our new wine bar next spring is going to have our friends working together on it."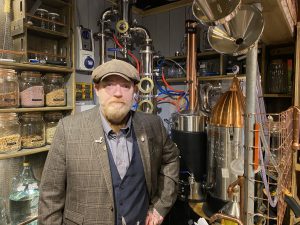 There is an almost dizzying array of things going on buzzing Bute. Keith McIntyre, co-owner of liquor emporium and micro-distillery Spirit of Bute, feels this vibe too: "You could say Bute had gone a bit fusty, but there's no doubting the new buzz electrifying the island now." I hear of a new seaweed foraging operation and of an ambitious attempt to cultivate truffes here in the Firth of Clyde.
A literally unmissable symbol of the rebirth is the Pavilion. This 1930s dame has blighted the Bute waterfront for as long as I can remember, but finally it looks like they are cracking on with a major refurb that should see it beaming its cultural charms across the Clyde and beyond. Nearby the 1920s Winter Gardens have already been reborn as a tourist information centre, museum and cinema. The Glenburn Hotel is back too. The last time I was on Bute this old hydrotherapy retreat, which dates back to 1892, was closed with little sign of it re-opening, but today its 121 rooms are back in business transporting guests back through its nostalgia to the doon the watter glory days.
I'm delighted to see examples of the community being able to take ownership of projects, despite the over-arching control of Bute by Mount Stuart too. The Anchor Tavern in Port Bannatyne is an inspiring community-owned pub. Erin Murphy's dad proudly tells me, "there is always a warm welcome and a guitar on hand for anyone wanting to come in and play a tune." Another impressive community project is Bute Forest. They have worked hard protecting tracts of indigenous forest and have also added in ranger walks and off-the-grid eco huts to attract more visitors.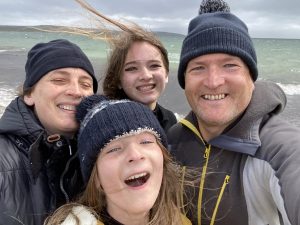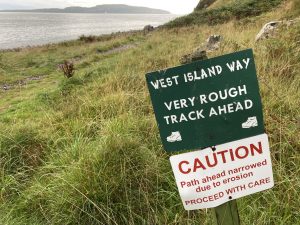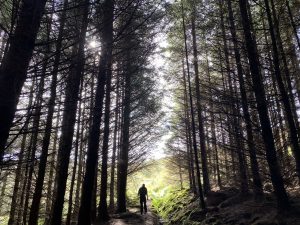 Turning to Scottish Islands Passport, as usual, the app fills in many blanks. I hadn't realised Bute harboured three golf courses. Also I hadn't realised just how many great local businesses the isle supports. Bute Archaeology delve into the island's rich story, with Bute Birdwatching on hand for family-friendly birdwatching experiences. I learn too about the annual Butefest in July, vowing to come back over and check it out. At festivals like Butefest, all the strands of this endlessly fascinating island weave together – community and farmers; Stuarts and all.
---