By Andrew Hirst. Published in The Shetland Times, Arts & Entertainment on Friday 27th January 2023.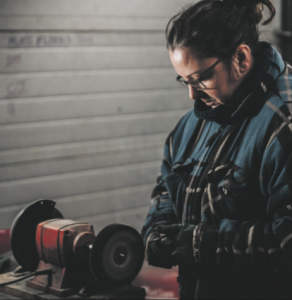 Arts and craftspeople have collaborated on a range of engraved "passport stamps" supporting island tourism. Meet the Makers is the Scottish Islands Passport's latest initiative aimed at getting folk to discover more islands – including Shetland. Tourists are being encouraged to enhance their visits with "travelogues" designed to help them "uncover the rich tapestry of island life". They allow people to collect passport stamps, designed by artists, as they travel around the islands, taking brass rubbings in each community they visit. And Shetland's creative community has played a central role, with artist Yolanda Bruce having designed 14 of the Shetland stamps, while Dawn Siegel of N-Graved made all 70 of the brass engravings. Siegel, who has recently moved out from her Quarff workshop and is seeking new premises, was initially asked to engrave the images on 2cm rubber stamps – but it proved impossible to preserve the detail of the artwork. Instead, she suggested the brass plaques to offer a more faithful representation.
Even these proved quite a challenge – involving hundreds of hours' work as she painstakingly etched out the intricate designs using a computer operated machine. "I had to refine the designs and make them simpler, with smoother edges, so that they could be engraved," she said. "It was a lot of work – but I'm really pleased with how they came out." During her dozen or so years as an engraver, Siegel has undertaken many intriguing projects, including with the Lerwick and South Mainland Up-Helly-A' squads. "I like to do something that's a bit different," she said. "Often I'll get folk asking if I can do something unusual, or a bit more out there, and I'll always give it a go. Those are the jobs I like the best. There are so many that I've enjoyed but working with the Up- Helly-A' squads probably stands out the most. I don't think anything compares to being asked to make something that thousands of people are going to see and be like 'did you actually make that?' For me, that's such a big honour."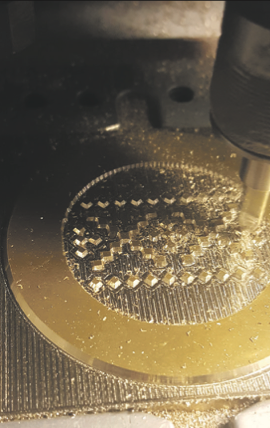 Siegel got into engraving by chance after seeing it in action during a holiday to Fuerteventura. With arts and crafts running in the family – her mother makes stained glass while her father builds boats and restores cars – it seemed like a natural choice. So when her husband, Gordon, saw a machine for sale, she was quick to grab it. "It just went from there," she said. "It's gone on to grow arms and legs – and lots and lots of machines." Over the years, she has taught herself to use various routers, lathes and pewter casting machines – attracting commissions from all over the UK. Much of her work is connected with Shetland dialect or Viking heritage. And it is this heritage focus that Meet the Makers looks to celebrate. Bruce's artwork has also been inspired by the islands, with references to nature, such as otters and orcas, a pilgrim found on the historic Monk's stone in Papil and sunken ships with treasure. But with the commissions taking place during lockdown, she was unable to visit the islands and instead had to rely on memories and photos from when she hiked the coastline in 2011. Last summer, she was able to visit some of the islands and keep the stamps digitally via the Scottish Islands Passport app, which she said was "exciting". However, she has yet to see the brass plaques and said she was looking forward to collecting the physical stamps.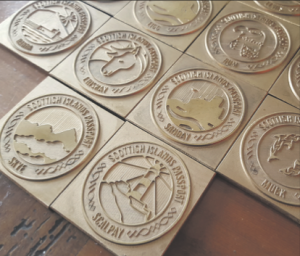 Sarah Compton-Bishop, who is project manager for the Scottish Islands Passport scheme, said it was aimed at getting more people to a visit a wider range of islands – especially areas where folk are keen for visitors. She said it also aimed to extend the season, taking pressure off the summer pinch points and make the tourism to islands more balanced and sustainable. Ms Compton-Bishop said 12,000 people had already used the app, which she described as "Tinder for islands" as it matched people with locations to visit based on their interests and experiences. "The travelogues follow this same principle," she added. "Looking at a collection of islands based on less well known experiences that tie in with a particular interest area. Users of the app and physical travelogues can collect island stamps as they go, and the app has the ability for people to 'favourite' experiences and islands – creating their own island wish list. We point out to local sources of info for more detailed, on the ground intel, and we're building up a database of local island charities that we can highlight to users too. We're also looking at ways we can use the app to reward active and sustainable travel and incentivise people to spend more with local island businesses."
VisitScotland's development manager for Shetland, Steve Mathieson, said the passport scheme was a "great initiative" to encourage visitors to the islands. "In Shetland's case it should be particularly effective as a means of assisting in spreading the benefits of tourism to the outer isles once they have arrived on mainland, as well as being a prime driver to visit Shetland in the first place," he added. VisitScotland has been part of the steering group since the project's inception and Shetland itself has played a prominent role in its development. "For example, we were chosen as the area for the pilot project, a Shetland artist was commissioned to design the local stamps and now N-Graved has been chosen to fabricate the brass rubbing plates. These plates, which are unique to each island, will allow visitors who have purchased their travelogues to collect a physical stamp as well as the digital one available through the app."
The first travelogue, which launched before Christmas, featured Fair Isle, East Burra, Fetlar and Yell while Unst, Bressay, Papa Stour and Whalsay are included in the next travelogue, which is due for release in the summer.
---